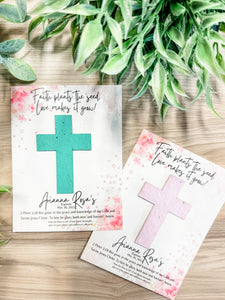 Thank those who celebrate your little one's special day with our "Faith Plants the Seed" Cross Favors. This unique "Thank You" keepsake card features a beautiful watercolor green botanical design behind a seed paper cross that will grow beautiful wildflowers when planted. The Cross shape is made from eco-friendly, 100% recycled, handmade paper embedded with non-GMO, organic wildflower seeds. Personalize with a name, date and a few lines of text (verse, quote, poem or thank you message). If a custom message / verse isn't provided, the 2 Peter 3:18 verse shown on the sample will be used. Planting instructions are on the back

Perfect for Baptism, Dedication, Easter, Confirmation, Baby Shower or 1st Communion.

Recommended colors: Aqua, Green, Emerald, Blue, Teal, Olive, Lime, White, or Cream

The personalized card measures approximately 5.13" wide and 3.88" tall and the cross is 3" tall x 2.25" wide. The card features the words "Faith Plants the Seed, Love Makes it Grow!" at the top and "Plant this cross & wildflowers will grow!" along the bottom. The rest of the text may be customized.
FOR PERSONALIZATION:
1) Name
2) Date
3) Quote, Poem, Verse OR Custom Message
4) Any special instructions or requests?