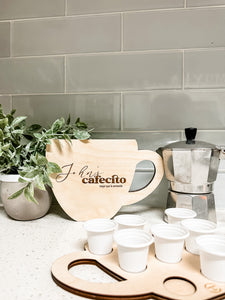 Inspired by our love for all things Cafecito and our friends at OTF that are always graciously making all its members Cafecito.
These adorable signs can be used as kitchen and/or coffee bar decor and when you have guest over, serve your cafecito on the reverse side! They also make great gifts for the cafecito lovers in your life. 
Please note that these are meant to be used with mini disposable cafe cups. The circumference from the top is 1.5 inches and .75 at the base. 
We've also added a larger size 9 x 6 for those that use the taller foam cafecito cups that are 1 diameter at bottom. 

+ available in 5 different designs and can be customized with your own phrase, company name and/or logo etc.
Dimensions: approx. 8" x 5"

Note: Our pieces are made to order. Each piece of wood is hand selected and may have perfect imperfections such as knots, nicks, or grain variations. Therefore, every piece has a one of a kind character and will vary from the photo listed, but we promise the beauty will resonate in your piece.