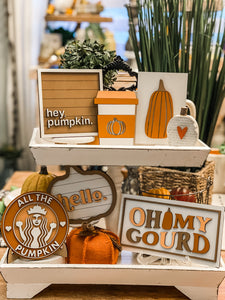 Show your love for PUMPKIN season with this adorable tiered tray set. 
Oh my Gourd Sign- 8 x 4.3 inches
Hello Pumpkin Sq. Sign - 5 x 5 inches
All The Pumpkin Starbucks inspired round sign- 5 inches
Hello Pumpkin Sign - 5.5 x 5 inches
Pumpkin Cup - 4.8 x 3.4 inches
Tall Pumpkin Mini Sign- 5.5 x 3.75 inches 
Purchase as Bundle or as Individual pieces. Use drop down menu for your selections.  
*Tray and other props in picture are not for sale

* stands can be purchased separately, they are approx 2.5 x 2.75 inches. Perfect for smaller tier trays. 3 for $8.99 (stands will not be stained or painted)
→ Can purchase individual pieces or as a full set
→ Hand painted
→ Laser Cut
→ Each piece is handcrafted in the USA
→ Due to each item being hand painted and cut from wood details may vary slightly, making each product unique and one-of-a-kind
→ Does not include tiered tray, beads, greenery, stands, cups, beads, floral decor or stands.
** Shades of color may slightly vary due to limited availability of paint colors **