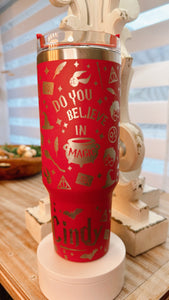 THIS ITEM IS A PRE-ORDER ITEM AND IS SUBJECT TO A TWO WEEK MINIMUM TURNAROUND TIME. 
This 40 oz tumbler is perfect for any Harry Potter fan looking to add a touch of magic to their daily routine. Crafted from high-quality materials with unique wizard-inspired designs, it's sure to delight any fan of the magical series.
THIS TUMBLER INCLUDES PERSONALIZATION - PLEASE MAKE SURE TO ENTER IT USING PERSONALIZATION BOX.