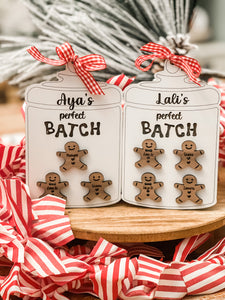 Give your Grandmother or Mom a smile with this cute ornament! This is fully customizable, you choose grandma's name and tell me how many gingerbread grandkids you would like with the limit being 9. The ornament is 6 inches tall and just under 4 inches wide. Keep in mind that the more gingerbread there are on the ornament, the smaller they will be. 
They are made from 1/8th inch walnut wood and the gingerbread cookies are made from 1/8th inch MDF
When you go to personalize, please make sure that you tell me the "grandma name" and grand children, also if they are boy or girl.
Please contact me if you have any questions, I'm happy to help!