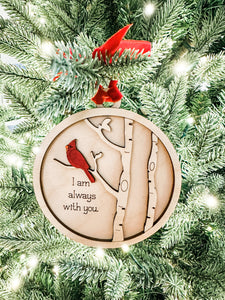 A cardinal is a representative of a loved one who has passed. When you see one, it means they are visiting you. They usually show up when you most need them or miss them. It is said that they also make an appearance during times of celebration as well as despair to let you know they will always be with you.
This cardinal ornament is a beautiful reminder that those we have lost, will always be with us in spirit. Each one is handmade with careful care and attention to detail. They make lovely thoughtful gifts for those who are bereaved.
Read on for item details and specifications.
DETAILS
◉Handmade with a laser engraver- this custom ornament makes a great gift, or personal addition to your holiday decor.
◉Created with Baltic Birch Plywood and twine ribbon
◉The ornament is 1/8 inch thick, and 4 inches in tall, and 3.1 inches wide
◉It comes with a twine ribbon that feeds through the loop for easy hanging.