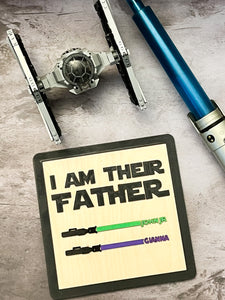 Is your dad or husband the BEST DAD IN THE GALAXY?
What a better way than to show your Star Wars loving father figure in your life you care!

This 9x9 sign is made of birch wood, giving a crisp clean look. It can be purchased with a display stand, but can also be hung with command strips. 

Can fit up to 6

Please list name and color( Purple, Light blue, Red, Green, Orange, Yellow, Pink)
Example:
Name 1:David -Yellow
Name 2:Melissa -Green
Name 3-
Max of 6 names.